Sustainability
Get to Know Enotel Hotels & Resorts Sustainability Actions
About EnoGreen
Enotel Hotels & Resorts, within the framework of the development of its accommodation, catering and leisure activities in the various hotel units, is essentially committed to ensuring the happiness of its employees, guests and all stakeholders involved.
Also being aware of the impact of activities on a social, economic and environmental level, and following its objectives and strategies, Enotel Hotels & Resorts made a commitment through the EnoGreen project, created in 2016, to develop environmental practices of responsible use, taking into account the SDGs – Sustainable Development Goals, constantly evolving and making Enotel more environmentally responsible, socially fair and economically viable.
With EnoGreen, the main objective is to sensitize people to avoid wasting natural resources, evolving towards a more sustainable planet, using annual action plans and objectives for continuous improvement in the areas of water, energy, waste, chemical products, social and cultural responsibility, always investing in the development and training of our employees.
What we do?
WE REDUCE
We have partially exchanged single-use amenities for refillable dispensers with biodegradable, 100% recycled, and more environmentally friendly composition.
We turn off the air conditioning while cleaning the room with open windows.
We reduce CO

2

emissions by using LED bulbs.
We turn off lights in unused service areas.
We reduce the use of paper, ink cartridges and toners in printing, giving priority to digital format.
We reduce the use of envelopes.
WE REUSE
The Enotel Hotels & Resorts Group's furniture is coated with ecological material developed by Lamiecco, a company that collects more than 8 million plastic bottles from the environment to transform them into high quality products.
We follow the established procedures for the change of towels and bed linen in occupied rooms.
We replaced plastic straws for other environmentally friendly straws.
Reusable cloth bags available for laundry orders.
We reuse paper for printing of internal documents.
WE RECYCLE
We separate waste to recycle paper, glass, plastic and organics.
We recycle light bulbs, used electrical and electronic equipment.
We recycle used cooking oil.
We recycle batteries.
WE RESPECT
We use products that respect local communities, contributing to regional economic growth.
What we ask you to do?
Reduce your shower time.
Leave your recyclable trash on your room, we guarantee the correct recycling.
Reduce lighting according to your needs.
Use the half flush option and save water.
Use the glass available to brush your teeth.
Use the bed linen and towels more than once and help save water, electricity and detergent.
Every time you open the windows turn off the air conditioning.
Drink public water and fill your reusable bottle here. Find your nearest water point.
Use public transportations or bicycles.
Consume regional products that respect local communities, thus contributing to economic growth.
Other EnoGreen actions
Employee Awareness: We regularly carry out campaigns to raise awareness among our team of employees, from simple practices such as the adoption of their own water bottle, cup for coffee, to actions for the conscious use of paper in the company, always giving priority to the digital format.
Valuing Local Culture: We encourage local tourism, publicizing the regional events to our guests, in addition to constantly investing in the local community, by hiring employees from the region.
Enotel Magnólia is a Green Key hotel
Enotel Magnólia is a Green Key hotel which makes a special effort to protect the environment and therefore the climate. We have made improvements to ensure that both we, and you as our guest, are "greener".
Green Key is the international eco-label of the tourism industry, which is awarded to companies that comply with a number of environmental requirements in many different areas.
The hotel must, for instance, introduce environmental management, reduce its energy and water consumption, sort waste, use environmentally friendly cleaning products, promote organic products, avoid chemical herbicides and much more.
Green Key is established in more than 40 countries but more are being added to the list. In Portugal, the Secretariat falls under ABAE.
Read more at: www.greenkey.abae.pt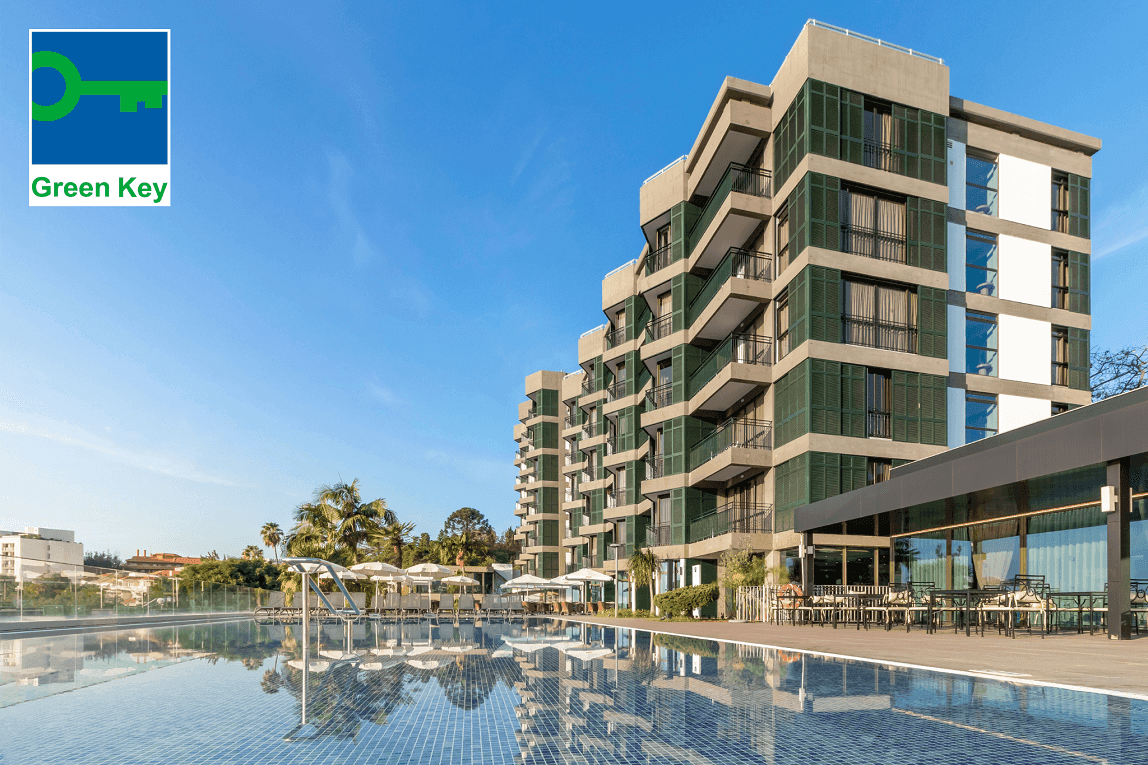 When you choose to stay at Enotel Magnólia, you help to protect the environment!