Experiences
Step into pure nature
Experiences
What to do in Funchal?
Madeira is one of the most fascinating regions in the world, awarded several times as the best island destination in Europe and the world. Enotel Magnólia is just 2 minutes from the center of Funchal, which is the capital of Madeira and 30 minutes from Madeira Cristiano Ronaldo International Airport.
Funchal, which is one of the most diverse places on Madeira Island, has several options for those looking for a dynamic and varied trip.
Our proposals range from land to sea activities and these are what we consider to be the best experiences Madeira can offer!
Are you ready?
Enotel Magnólia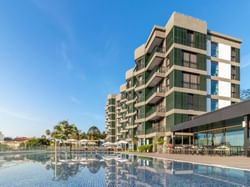 The Enotel Magnólia, the best four-star hotel in Funchal, is waiting for you.